Kaernemaelkskoldskal Recipe – a sponsored post for the North Food Festival
One of my favourite things about living abroad is learning about different cultures through food. This means, tasting and testing recipes that are foreign to my repertoire and palate. Living in Denmark, I have had the opportunity to try all sorts of new and interesting ingredients, flavour combinations and dishes but one stands out as the most foreign dish:  Kærnemælkskoldskål with Kammerjunker.  
Let me translate- Kærnemælk, is buttermilk and koldskål, literally, cold bowl,  is a cold buttermilk soup that is traditionally eaten in the summer as a refreshing seasonal dessert which can be made from scratch or purchased at the supermarket.  Kammerjunker is the plain vanilla cookie that is broken up and crumbled over the koldskål.  
Why did I choose to write about this food? The Danes eat bowlfuls of this tangy, creamy buttermilk soup topped with things like berries, granola, crushed up cookies rye bread croutons or even melon. To put the popularity of this dessert in perspective, due to unusually high temperatures in Copenhagen this summer, it was reported on DR, a Danish news site, the main dairy producer, Arla, sold 3.8 million liters in July alone. Bisca, another koldskal producer in the country sold out of the stuff due to heightened demand.
I first tried Kærnemælkskoldskål in a rather unusual place: On the Dronning Louises Bro (bridge) in Copenhagen. It was a warm summer morning and I had just finished a yoga class.  As I crossed the bridge on my way home, I spotted a little stand staffed by a few girls handing out cups and spoons of something.  I walked over to inquire what they were serving and they responded, koldskål. I ordered a cup and gave it a shot.  Let me interject by saying, the thought of drinking or eating buttermilk with egg yolks, sugar and lemon is  not high on my list of familiar tastes nor is it high on my list of things I want to taste. Nevertheless, I always make an effort to try unfamiliar foods when I am abroad.  I would describe the taste of koldskal more like a liquid yogurt with fruit and soft cookies floating around. After my first cup on the bridge, I wasn't hooked just yet, but I was curious to try more.  My next koldskål experience was at a nicer restaurant in the city where they served a variation of this classic Danish concoction for dessert.
In celebration of the North Food Festival, which is taking place in New York from October 2-7th, I decided to whip up a batch of my own Kærnemælkskoldskål with Kammerjunker before the summer winded down and embrace this Danish tradition.
Given its popularity, there are many versions of this recipe on the internet.  Some make koldskal it with egg yolks (the traditional way) while others omit the egg yolks and swap in Greek yogurt.  I opted to make the traditional version with egg yolks and used the recipe of my favourite Copenhagen food photographer and stylist, Tina Brok Hansen and her foodie blog partner Christine Clemmensen (Clemmensen + Brok).
Recipe-
Kaernemaelkskoldskaal:
1 liter of kaernemaelk (buttermilk)
2 pasteurized egg yolks (in Denmark you can buy pasteurized egg yolks already separated in little containers)
4 tablespoons of sugar
1 vanilla pod, seeds scraped out
the zest and juice of half a lemon
Whip the egg yolks, sugar and vanilla seeds together.  Pour in the buttermilk and stir.  Add the lemon juice and zest slowly while tasting to make sure the mixture does not become too sour.
Kammerjunker:
250g flour
2 teaspoons baking powder
1 tablespoon of vanilla sugar (I didn't have vanilla sugar so I used regular sugar)
75 g of white sugar
75 g of butter
1 egg
0.5 dl (50ml) of cream
Preheat the oven to 200 C. Mix the flour and baking powder together in a bowl.  Add the sugar and vanilla sugar.  Cut the cold butter in to the dry mix and add the egg, and cream.  Mix together until you get a smooth dough (you can do this with your hands).  Roll the dough into a long log and cut into 2 cm circles.  Line up your cookies on a baking sheet covered in parchment paper and bake for 7 minutes or until the tops turn a light golden brown colour.
Cool your cookies and crush them over the buttermilk soup.
I drank two bowls of my homemade koldskal and rather enjoyed it.  Note the recipe is quite large (1 liter of buttermilk), so unless you plan to drink 1 liter of buttermilk on your own, make sure to invite some friends over and share the story of how you were curious to get in touch with your Danish roots and decided to test this recipe and share the experience with loved ones.  Even if the summer season has come and gone, your kaernemaelkskoldskal opportunity has not passed.  Since it is essentially a variation of egg nog, which some people drink over the December holiday season, you have at least until the winter to perfect this buttermilk soup.
If you are curious about new Nordic cuisine, can't make the trip to Denmark, Sweden, Norway, Finland or Iceland any time soon, and New York is accessible in October, this might be a good event to mark down in your calendar.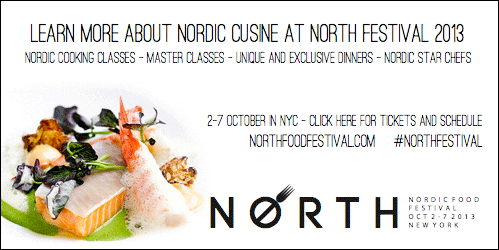 Other Recipes with Buttermilk Worth Trying: